Shea, Ségnat, Séaghnait, Séanait (Hawk) Siomha, Sithmaith, Seva (Peace) Siobhán, Sinéad, Sine (Gracious) Setlocenia (She of the Long Life) Sabrina, Averne, Sabre, Sabren, Severn, Severina, Severinae, Séverine, Siberena, Sevora (Earth Sweet Goodness) Samthiann, Samthann, Samantha, Hafren (Summer) Serena (Silver Lady, Sunny) Parcae Ovo de Galinha (Fate Egg of Gaule)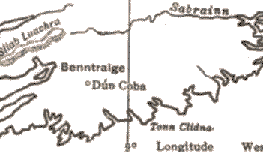 Above: Bantry Bay Ireland

Sabrina Fair, listen where you're sitting
Under the glassy, cool translucent waves.
In twisted braids of lillies knitting
The loose train of your amber hair
Listen for dear honor's sake
Goddess of the silver lake
Listen.

By the nymphs that nightly dance
Upon your stream with a glance
Rise rise, your rosy head
From your coral- paved bed
And bridle in your headlong wave.
Will you answer our call?
Listen

By the rushy fringed bank
Where the willow grows and the osier (willow branch) dank (damp)
My sliding Chariot stays
Set with agate and the azure sheen
Of turkish blue, and emerald green
That in the Channel strays
While off the waters fleet
I set my printless feet.

Over the cowslips velvet head
That bends not as I tread
Gentle lover at your request
I am here. – John Milton

Bird of night, 'tis time to leave
Thy nest, and seek St. Nathan's Kieve;
Bird of power o'er Pixy dells,
Disenchant me from their spells.
Give me freedom from their thrall,
Ere thou seek'st yon waterfall;
Drive from me idle Fancy's mood,
Or drown my folly in the flood.
(pron. SHAY-nat, SAY-vah, SHEE-va, shi-VAWN or shuh-VAHN, shi-NAYD or SHEE-naid, SHEE-na, Sah-BREE-nah, ah-VEER-nee) sith: peace + maith: good. Celtic goddess of the River Severn. Her grandmother Gwendolyn-Guinevere: The White Goddess, Gwendolyn. baptised her in the Severn River at Castle Dolforwyn near Abermule. She is as fair as a lily, with dark and flowing hair, dressed in white and silver with a neck that moves with the grace and beauty of a swan. She lives at Tintagel Castle situated on Long Island Rock populated by sea-gulls & spirits and is the only daughter of Estrildis and Lóch. Her mother died and she was educated in tapestry arts and bell ringing by Hilary. At vespers she walks out of Tintagel Castle to Trevenna and meets a magpie on the road. She takes another way, following a rough road over a field to the bottom of a ravine. She crosses the running stream; takes the winding path through giant mossy stones where tree roots cling to follow the sweet strain of a harp. She step-stones across the river to a narrow path leading to Nathan's Kieve Waterfall. Entranced by the handsome, young, light brown curly-haired, sleeping man clad in a cloak and vest of birds feathers near the waters edge; she gazes at his tiara glittering with diamonds, emeralds, rubies, sapphires; emulating the colors of the butterfly's wing and his beautiful lute. When the mist rises his form disappears and she returns to Tintagel. Hilary has a silver bell engraved with her image as a penitent, with her hair hanging down her back, and carrying a taper in her hand, in token for missing the vespers. At the high festival of Tintagel she can think of nothing but the minstrel and returns to the waterfall with a gold purse, a three year old jar of strong rich metheglin: mead made at the full of the moon for Swillpot the enchanter to remove the spell. He tells her to climb to the top of the waterfall [the top rock forms a natural arch in front of the waterfall, and lies directly over a boiling and foaming cauldron] perform magical rites to appease the Pixies until the clouds pass over the moon, and stay until she hears the scream of Merlin the night-bird and sees his flapping wings. Sabrina loses her footing after repeating the incantation and drowns in the Severn river aka Blaenhafren River. The borders of Dyfed and Gwynedd: White meet near the site of Carn Gwilym: The White Tomb where the rivers Wye and Blaenhafren rise. When the full moon beams sparkle, like filaments of diamonds on waterfall, Serena's Silver Bell is heard ringing in a slow and melancholy cadence, like a funeral chime.
Sithmaith: Peace Good was the name of 8th C. abbess of Clonburren. Clonburren Castle is located in the parish of Rath Domhnaigh: Rathdowney: Black Womb in Co. Laois, Upper Ossory. The remains are roofless but preserved, with walls 7 ft. thick. There are four stories under the stone arch, and another story and a garret over it. 6th C. Breton saint, sister of St. Tugdual. The parish of Sainte-Seve is dedicated to her. Her shrine is at Maryport, Cumberland. Her Diocese is in the Province of Catanzaro in Calabria, Southern Italy on a rocky precipice on the site of the ancient Siberena. A necropolis holds the bones of the dead. She is associated with the triple Maries: Cattedrale di Santa Maria Assunta. Taken in the 11th century by the Normans from the Emir of Arabia. The Sabriann River is located at the southwest tip of Ireland. Hafnia, Havnia, Codania: Copenhagen, Denmark. Severina was the wife of Aurelian and was made Augusta c.274. She ruled during the interregnal period before Tacitus was nominated the next emperor. In the television series Bewitched Serena is the brunette sister and Samantha is the blonde sister. (71, 73, 80, 89, 99, 188, 220)