---
St. Patrick - History - Legends - Place-names - Games - Links - Rings - E-Cards
---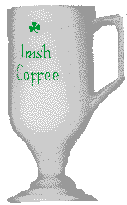 Irish Coffee
was invented in the 1940s by chef Joe Sheridan at Foyne's restaurant in County Clare. It was introduced at the Shannon airport as a pick-me-up for travelers. It became very popular and he took his recipe to the United States where it is now served in restaurants and pubs. Mr. Sheridan's version is made with Irish Mist liqueur. Legend says the recipe for Irish Mist is 1,200 years old and is the Heather Ale of Celtic folklore. Heather is a sacred flower. (4)

Sheridan's Irish Coffee: Heat a stemmed whisky glass by running it under hot water. Add 1 cup of hot coffee and 1 1/2 ounces of Irish Mist liqueur. Top with whipped cream. (4)
Whisky Version: Pour coffee in a heated glass. Add three sugar cubes and one jigger of whiskey. Add whipped cream to top.

---
---