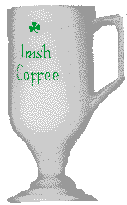 2 eggs, 2 cups skim milk
1 cup brown sugar, 2 teaspoons vanilla extract
4 tablespoons instant coffee powder, 1/2 cup Irish whiskey or brandy
2 cups whipped cream or Dream Whip

Combine eggs, sugar, milk, and coffee. Cook and stir over medium low heat until sugar dissolves and mixture is slightly thickened. Remove from heat, stir in whiskey. Cool to room temperature. Stir in vanilla and whipped cream. Pour into canister. Freeze according to ice cream maker directions. Makes 2 quarts.