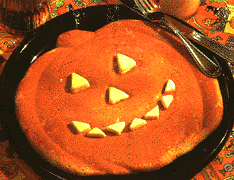 Sowen: Soul Cake
4oz (125g) butter
8 oz (250g) honey
12 oz (350g) oatmeal
4 oz (125g) flour
1 tsp ground ginger
½ tsp bicarbonate of soda
4 Tbsp skim milk
Pumpkin Pancakes
1 cup pancake mix, 2 Tablespoon sugar
¼ teaspoon ground cinnamon
⅛ teaspoon ginger
1 egg white
1 ¼ cups skim milk
1 cup pumpkin
powdered sugar for garnish

Combine ingredients, beating until smooth. Bake on a lightly sprayed griddle. For Jack o' Lantern pan preheat to 450° Fahrenheit. Spray coat, pour in 2 cups of batter and bake 6-8 minutes until top is dry and edges are brown. Photo copyright ©1997 Wilton Industries

Sowen: Soul Cake

Preheat oven to 160°C/325°F. Grease 11×17/ 28cm×18cm pan. Mix: oatmeal, flour, ginger. Melt butter and mix in honey. Dissolve bicarbonate in milk. Pour honey into dry ingredients and add milk. Stir, spread into pan. Bake 1 hour 30 minutes. Alwyn Jones's Hookery Cookery ©2000.