---
Xmas - History - Legends - St. Nick - 12th Night - Carols - Games - Rings - E-Cards
---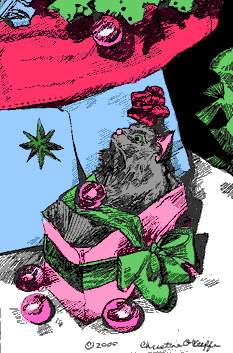 American Customs
Christmas decorations are available for purchase in stores in November. Popular decorations are indoor and outdoor colored electric lights, lighted angel tree toppers, ribbons, tinsel, peppermint sticks called candy canes, holly, glass balls, dolls, santa figurines, and light up reindeer.
Cuetlaxochitl: Star Flower of Purity (pronounced kweht-lah-soh'-cheetl) are popular decorations known as poinsetta flowers (pronounced poyn SEHT uh) in the United States after Joel R. Poinsett, first United States ambassador to Mexico in 1825.
Americans elaborately decorate the outdoors of their homes with colored electric lights and contests are held for the most beautiful and creatively lit houses by local newspapers in some areas. The Christmas tree is placed in the front room of the house and gifts are piled underneath it. Christmas stockings are hung by the fireplace if the home has one. Cookies and candy are baked by mothers, grandmothers, and children.
Christmas Cards are sent to friends, relatives, and business associates. Christmas parties are held the week before Christmas at places of business, homes, and schools. Craft parties are held for children. They learn to make cards, yarn dolls, candles and other decorations.

---
---