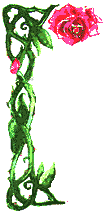 Valentine's Flower Meaning
Bleeding Heart: Hopeless but not heartless.

Gardenia: I love you in secret.

Gladiolus: You pierce my heart.

Sweet William: You are gallant and suave.

Lily of the Valley: Let us make up.

Rose: I love you passionately.

Violet: I return your love.

Bayleaf: Hope.

General Notes: Do not give white gladiolus on Valentine's Day. They are for funerals. White and yellow flowers are funeral flowers in some countries.