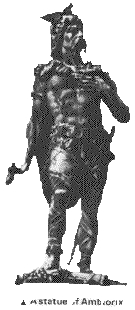 Ambiorix (1st Century BC) Chief of the Eburones of the Low Countries with the elderly Catuvolcus. They fought against Caesar in France and in 54 BC they massacred a Roman legion with the Germanic tribes. He was never caught.
Bellovesus (4th Cen BC) Nephew of Ambicatus, chief of the Bituriges tribe from Southern Germany. He took 200,000 men across the Alps into the Po River of Italy.
Cartmandua (1st Cen BC) Queen of the Brigantes of Northern Britain. Her husband, Venutius. The tribe was split into two factions. Caratacus ap Cunobelin of the Catuvellauni fled to her for protection, but was handed over to the Romans in AD 51. She fled in exile. (20)
Cassivellaunus (1st Cen BC) Powerful chief of Southern Britain in 54 BC. He fought with the Trinovantes against Caesar. Caesar lay waste to his lands. and hillfort.
Diviciacus (1st Cen BC) Chief of the Aedui from east-central France. His brother Dumnorix succeeded him.
Epaticus King of the Atrebates of Britain.
Vercingetorix (1st Cen BC) Arvernian chief from central France. His father was put to death and he raised a huge army against Caesar in 52 BC which would have succeeded in driving the Romans out of France (known then as Gaule) if all the tribes had united under him. Some of the tribes held back from joining him until too late. Caesar kept him in prison in Rome for six years before putting him to death.