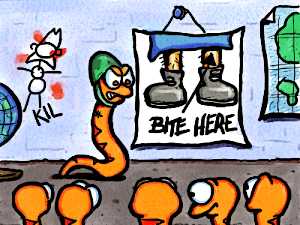 THE SNAKES PLAN THEIR STRATEGY
In this modernisation (Romeo and Juliet style) of the St. Patrick story, you play as St. Patrick. Your job is to banish the last of Ireland's snake population with extreme prejudice. To help you in this ever so holy quest, GOD, in his infinite wisdom, has taken away your well known Paddy SnakeStompin' Stick and has replaced it with a 357 Magnum.
The snakes will run around the hill in an attempt to confuse you, but after about a minute they will sneak up to the top and try to bite, so be very careful. As is the style in most arcade games "Shoot anything that moves". Good luck. Click on the picture below to play the online version
PLAY THE GAME ONLINE (140k)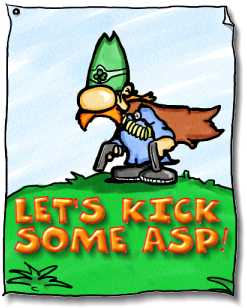 This St. Patrick game was created by using Photoshop 4, Painter 5, Bryce 3, SoundEdit 2, Director 6 and Debabelizer. © Created by JAB with special thanks to Chris Lynchehaun.
NO SNAKES WERE HARMED DURING THE PRODUCTION OF THIS GAME
If you have the Shockwave 6.0 plug-in visit JAB's website to play the game and get information. For earlier systems download the shockwave plug in you need on the games page and return back here.
---